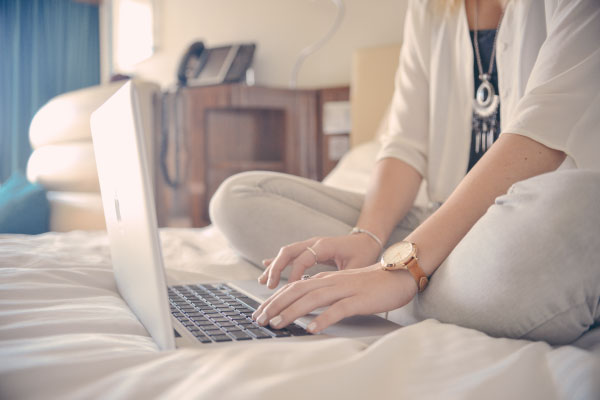 Today's workforce is more remote, mobile and off-site than ever before. It's true that technology is drastically changing how we work, collaborate and measure progress. Technology is also making it feasible to effectively hire and manage employees who work off-site. The keyword here is "technology." It is often said that you're "only as good as the tools you use." For HR, this trend towards remote work makes this statement especially true. And as such, HR needs to adopt the right tools to benefit from in some unfamiliar territory, which is why choosing a strong HRIS software or Human Capital Management (HCM) platform to simplify the process is critical.
Two Key Challenges: Engagement and Productivity
Remote work certainly brings a number of benefits, along with some challenges. We'll focus on two challenges in this article… employee engagement and HR administration. Today's HRIS software, in large part thanks to mobile technology, allows employers to manage a more dispersed workforce. But how can you ensure that an employee working off-site – or even in other state – feels engaged as an active member of the team? Second, how will you measure engagement and productivity? Engagement is a key driver of employee productivity, as well as an important means of fostering long-term career development and retention within the organization. HRIS software and related workforce management tools, such as time and attendance, can be an economical and vital part of your success in doing this.
Tips – HRIS Software can Make the Difference.
To counter these HR management challenges associated with remote workers, here are some helpful tips on how an HRIS software solution and the right HR/payroll partner can help:
Offer More Flexibility Without All the Paperwork
Historically it has been an administrative head ache to allow employees a great deal of autonomy or flexibility over their schedule and time off. Whether that relates to how employees swap shifts with co-workers (without over-burdening supervisors) or how they request and take advantage of time off, today these tasks are streamlined, electronic and keep a company going with minimal disruption. This can be a great benefit offered to employees and the value of work-life balance continues to grow. With the right HCM suite, offering employees greater flexibility over their time on and time off is streamlined, whether they work on site or remotely.
Vetting Remote Employees
Not every applicant is going to make an ideal remote employee. Determining which candidates are the right fit is partially accomplished through HR technology (or HR services) and partially completed through good hiring practices. Naturally, there are distinct characteristics that HR leadership should look for when vetting and hiring a potential team member who will be operating off-site. Clearly, someone with a proven track record of being self-motivated, disciplined and communicative, even without direct supervision, is going to be a good candidate. But beyond references and good interview questions, what tools can we use to save time and improve results?
Get past standard questions. Customize your employee applicant tracking software
The HR software you use to recruit and filter through job candidates is tremendously important for saving time and improving your outcome. Your HR software should allow you to customize the online application form provided to applicants, your new-hire workflow, and efficiently make that information available to stakeholders within the organization who will conduct interviews and make related decisions.
Affordable Background Screening Services
Aside from the technology aspect of hiring, hiring always carries some risk, which is why utilizing a comprehensive background screening service can greatly reduce your risk, whether this is for a volunteer, entry level or executive level hire. Today, highly comprehensive searches can be performed very quickly and inexpensively. Protecting your company and clients is very important, to say the least, so be sure invest in this simple, inexpensive service. The cost of a bad hire is steep; be sure this service is provided by your payroll or HR partner.
Simplify with Electronic New Hire Onboarding
The process of bringing on a new employee can be very time consuming for both HR and the employee. But having a positive, productive first day on the job can make a powerful first-impression on your new hire, whether on site or remote. Take advantage of today's electronic employee onboarding tools to minimize the cost on HR while making that first day as productive as possible. This includes the process of verifying the employee's right to work, enrolling in benefits, setting up payroll, time sheets and so on. All of this is much easier for both sides with the right HRIS software suite.
HRIS Software and GPS Location Verification
Today, numerous productivity tools exist to better engage employees within the organization, from video and chat tools to collaboration software. From a productivity standpoint, perhaps your remote employees are paid hourly. Perhaps they move between job sites throughout the day. If so, you need the ability to record a GPS location at the moment an employee clocks in or out. While this has been very costly or impractical in the past, today this is made possible with an HRIS platform that's integrated with automated timekeeping and a mobile app that offers GPS punch verification.
"Open and unfettered lines of communication are essential."
Using Employee Self-Service to Communicate
Are you using your HRIS software to communicate critical announcements or documents, such as your employee handbook or performance reviews, to employees? You should be, but perhaps you lack the right tools. To make a remote team work, open and unfettered lines of communication are essential both for day-to-day tasks and HR processes. Utilization of tools that facilitate this communication – such as chat apps, shared cloud drives and video conferencing – is certainly one piece of the remote workplace puzzle; however, it is equally important to adopt HR tools that help employees manage their critical HR data, such as requesting time off, approving timesheets,
or viewing their W-2 or payroll stubs
. Communicating this important information to employees is both important for compliance and good relations. As such, take advantage of an
Employee Self Service (ESS) portal
for your employees to manage their HR data.
Does your HRIS software allow for organizational chart management?
Developing official protocols for formalized communication is also important. A valuable aspect of any communication is knowing who your target audience is within the organization. This is particularly true for new employees as they learn political structures in the organization, both formal and informal. An HRIS suite with an
organizational visualization tool
can be an important tool to address this challenge.
More Time-saving Features from HRIS Software
With remote employees, how will you track time? Although time is not a complete measurement of employee productivity, it is an important one. Today this can be done through a web browser or mobile app. Does your organization conduct performance reviews? If so, how often? Are you tracking performance reviews electronically? How about Absence and Leave Management? With an HRIS software platform, this is made very convenient and doesn't require all the usual run-around between the employee, manager and HR. Finally, are you still enrolling employees in benefits through manual paperwork? Today, this is all made far easier through online enrollment. If you employ remote or in-the-field employees, contact a specialist at HRnext to learn more about how an HRIS suite with integrated applicant tracking, new hire onboarding, benefits enrollment, timekeeping, and Employee Self Service can help.